Chef V's Wedding
Chef V's Wedding 7/30/16, sorry this blog took so long to get up but better late then never! I just got my pictures back a couple of weeks ago so I was waiting for those to do it.
Anyways, My wedding was a success! Now I am Mrs. Kress! I never had a middle name so I kept Wheat (my old last name) and it is now my new middle name. My new name is Veronica Wheat Kress, not hyphenated.
I really had so much fun on my wedding day! I had some very unforeseen things happen to me, before the wedding, but when it came to the day, everyone put on a smile and made the day great! Re-planning my venue one month before my wedding was not what I wish on anyone, however, it ended up being way better then the first venue, so it was meant to be!
Our venue ended up being at the Hilton Torrey Pines in La Jolla, California. This was so special because Brandon took me hiking on our first date at Torrey Pines State Park. Four years later he brought me back to Torrey Pines and proposed on the beach at the end of the hike. We took our engagement photos at Torrey Pines not even knowing our venue would be there. And in case you missed my June Newsletter, we had previously booked a venue in La Jolla and a month before my wedding the venue was canceled for fire code. Yes… it was miserable going through that but it all worked out. Torrey Pines has a special place in our hearts so the fact that we got married there ended up being perfect.
Here are some of our engagement photos from Torrey Pines:
Getting ready for my wedding was a blast. We had lots of champagne to take the edge off. Hey, it was my wedding day, I'm allowed! My make up was done by my best friend Maja and everyone else had hair and make up from a friend I met in Yoga named Leah. Her company is Groomer Girl and we had lots of fun with them. I had my dream Galia Lahav dress that I rented from One Night Affair in Culver City. They also gave me a beautiful after-party gown that was super fun and sexy. I splurged on my shoes but bought a pair that I knew I could wear again, so they were worth it. Plus they were my 'something blue'!
Brandon and I decided to do a first look so that we could get all the pictures out of the way before the wedding started so that we wouldn't have to leave and we could enjoy everyone the entire time.
I had 7 bridesmaids total. One of them was Brandon's sister and he wanted her to stand on his side. We didn't have a flower girl but our best friend's son Dominic was our ring bearer. He was absolutely adorable.
WEDDING PARTY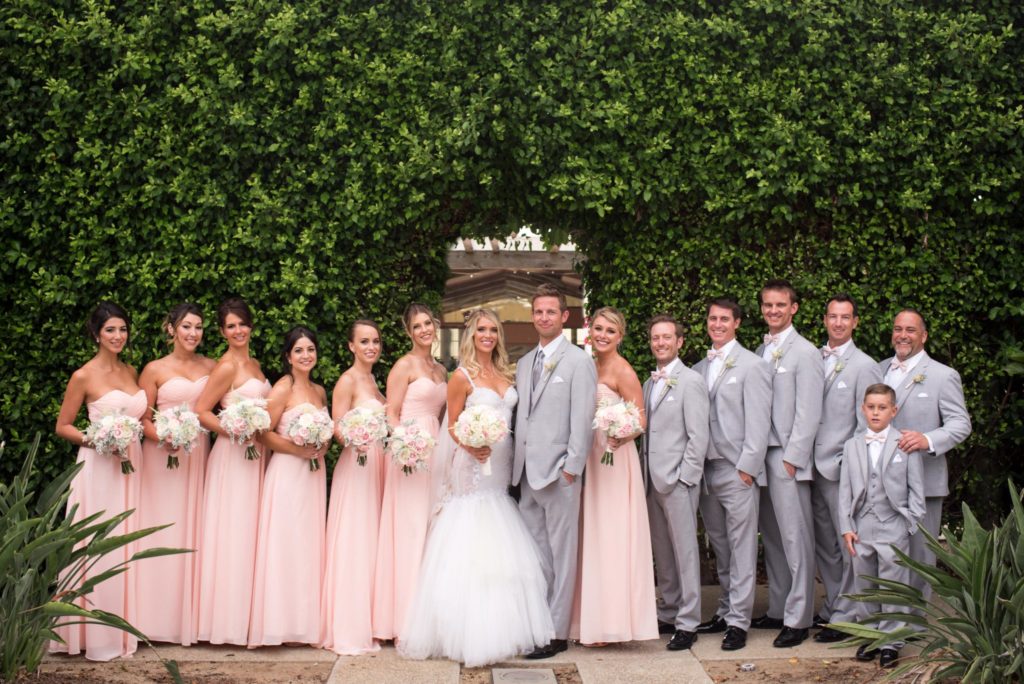 Before I saw the venue, I was really nervous to see my visions come to life. I was scared that the flowers wouldn't be how I wanted them or that the food would taste horrible but everything was perfect. The look and feel I was going for was  soft and romantic but not overdone. For the ceremony I wanted a delicate alter with a crystal chandelier and white sheer curtains blowing in the wind. The florist nailed it. It was so precious and beautiful.
My sister walked me down the isle since our father passed away in 2010. This was really special for me because I hold my sister so close to my heart it meant a lot to me for her to walk me down the isle. The picture of us hugging has 4 rainbow lights in it and I tell her that was our father and our grandparents who couldn't be there physically. They were all there in spirit.
My favorite part of the wedding was our vows. Brandon did such a good job and I got so emotional. Then I had to go after him and I just fell apart. I actually held it together on the outside but I was tearing up and my wonderful husband wiped my tear at the alter. He is such a sweet heart! We both made everyone laugh and awe. It was perfect.
We had a cocktail hour where I visited with everyone quickly then went to change before the reception into my party dress. I made my own cocktail mixes, that I'm famous for bringing to parties. I had my favorite Cucumber Martini and my other famous Jalapeno Watermelon Margarita. They were both a hit.
 CHEF V'S WEDDING –  COCKTAILS

I found fun little gifts for the guests like pink, white or black sunglasses with "#KressWedding 7/30/16" printed on the side of them. The name tags were on seashells and a calligrapher wrote the names and table numbers in nice handwriting. These were a fun touch that people could also take with them. For the dance floor, I found Old Navy flip flops for $2.50 each and bought a bunch of gray and white ones, wrapped them in blush bows and put them near the dance floor. Those were definitely a hit for the ladies!
 Chef V's Wedding – PARTY GIFTS

The photo booth that we got was so much fun! I highly recommend anyone with a wedding to get a photo booth. It was a great souvenir for the guest and for me. The company I used made me a book with everyone's photo strip at the end of the night and I go through it every week and just laugh. The props were so funny and everyone really liked it.
For the reception tables ,I used driftwood and reused the bridesmaid's bouquets as centerpieces. The tables looked great. I added personal touches by framing pictures of my father as well as Brandon and Mine's grandparents and placing them on the tables where our parents sat. The food was absolutely perfect. We had delicious options of a coconut miso salmon with a jasmine rice cake, a chicken prosciutto roulade with saffron risotto or a baked acorn squash stuffed with quinoa and a carrot ginger puree. Everything was delicious and well presented.

Chef V's Wedding – RECEPTION

I had my favorite cake lady Jenny Wenny Cakes make my favorite banana chocolate- chip cake. We had a two-tier cake for ourselves to cut and then we had cupcakes for everyone else.  Also, we had strawberry cupcakes with chocolate mousse inside and they were divine! The cake cutting was fun and of course, I had to smear a little frosting on Brandon! He would never do that to me, though…smart man!
Chef V's Wedding CUTTING THE CAKE

Here is us dancing to Lana Del Ray's "Young & Beautiful" and then we cut into a fun mix of Calvin Harris "When I Met You In The Summer" and had our friends join us on the dance floor. It was so much fun dancing with everyone until my stomach and feet hurt.
During the reception was Brandon and I made it a point to stay together the whole time and not separate. We were able to take in the whole night and spend a little quality time with each person at the wedding. There was a total of 100 guests but it was completely manageable and still intimate. The reception had 10 tables and we went to each one and spent 5 minutes chatting with everyone and thanking them for coming.
The bouquet and garter toss were two things, I didn't think I would be into but ended up being some of the funniest memories of the whole night. Brandon's groomsmen Brent caught the garter and his new girlfriend caught the bouquet, so we know they are next! Ha ha!
Chef V's Wedding GARTER AND BOUQUET TOSS

Chef V's Wedding all in all, it was a great day and a week after our wedding, we took off on our dream honeymoon throughout Asia. I'll share a blog about that since it was a 3-week adventure I'll need to write another blog post.
Thanks for all of the warm wishes, letters, comments, etc. during my wedding. I really appreciate all of my Chef V Clients! Thank you for your support and cheers to your health!