Kinechewa (Hello in Japanese) from sushi making class!
In August 2016, my husband and I took our dream honeymoon through Asia. We went to Singapore, Bali and Tokyo. I took a class in Bali to learn Balinese cooking methods that were delicious. In Tokyo, I took a sushi making class from a Japanese chef and became a certified sushi maker! It was a great experience.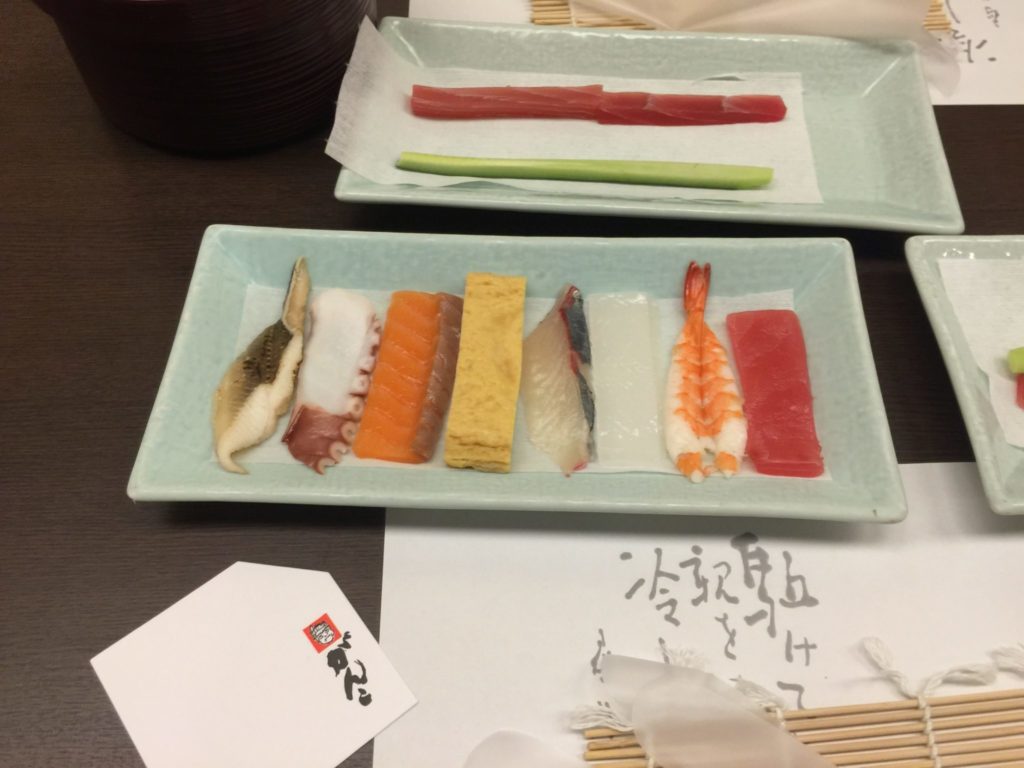 Wherever I travel, I have been using this tour guide company called Viator.com. It always has great tours and has never let me down. I booked my sushi making class through viator and my guide met me at 8am at the Mandarin Oriental hotel. We took the subway to the Tsujiki Fish Market in Tokyo. It was an interesting experience. It was rush hour so it was kind of like the movies or you tube videos you see where people are crowding in. My guide taught me that the ladies have their own cart in the front if they prefer.

The Tsujiki Fish Market is a special place because it has been around for about a century and it's moving to a new location this month. It was cool to get a tour of this fish market before they moved it to the new facility. Of course the day I went it was a big storm and it rained all day. The begining of the tour was outside but the main market is covered and enclosed.
The fish market has so much history and every kind of fish can be found here. It's incredible. Especially for a chef!
I learned how to make traditional sushi which was fun! I will share a traditional sushi post soon. For now, I wanted to share a healthy veggie sushi dish.
Cleanse-Approved Sushi
Sushi is not approved for cleansing because raw fish have high risk of parasites. I created a healthy twist that is also safe for pregnant moms to be.
Ingredients
1 cup cooked quinoa or brown rice
2 sheets of dried seaweed
1 tbsp. coconut nectar
1 tbsp. rice vinegar
1 tbsp. wasabi paste
1 cucumber, sliced lengthwise, like a chopstick
1 avocado, sliced thin and lengthwise
1 carrot, sliced lengthwise, like a chopstick
1 tsp. sesame seeds, white and black (optional)
Bamboo Sushi roller (buy on amazon)
Mix the coconut nectar and vinegar together in a large bowl. Add the quinoa or brown rice and mix well until the rice or quinoa becomes a sticky texture, like sushi rice.
Lay the seaweed flat and horizontal on a cutting board. Take a handful of rice (about 2 tbsp.) and start to mash it from the center of the seaweed to the outsides (right to left). Leave 1 centimeter at the top and bottom of the seaweed. When the rice is covering the entire surface area, evenly (minus the space on top and bottom) add the wasabi by taking the preferred amount (the more the spicier) and spreading a thin layer in the middle of the rice center. Take the wasabi and spread from right to left.
Add the sliced carrot, cucumber and avocado in the middle, on top of the thin layer of wasabi. Fold the bottom part of the sushi over the veggie filling to close.
Place the bamboo sushi roller underneath the sushi roll. Roll the sushi by carefully folding the bamboo over the folded roll, and roll lightly twice. Then, grab the sushi rolls with your middle finger in back and thumbs in front with index fingers on top and run your hands from outside to middle, middle to outside, to solidify the sushi roll. Remove from bamboo and you should have a nice roll of sushi.
Cut the pieces in about 1-inch chunks (bite sizes). Serve with coconut aminos, wasabi and pickled ginger.
Arigato! Sayonara!