Soup steals the cleanse spotlight as the new addition to juicing!
By: Veronica Wheat, Chef, Nutritional Therapist and founder of Chef V
Juicing has definitely gained its fair share of attention in recent years and still stands as a surefire way to get your body the fruits and veggies it needs. But something else is brewing in the kitchen, lately, and a new liquid diet is on the rise; it's called "souping."
It's never been a question, in my eyes, as soups have always been part of my detox regimen and provide a hearty, easily digestible way to get your veggies and nutrients. Soups are expected to be more savory, while juices tend to be more enjoyable sweet. For healthy, green juice, it's normal to associate it with bitterness, so many companies will add fruit juices to the blends to make it palatable, but end up serving up a whopping 30 grams of sugar, per serving. While we use a small amount of apple to achieve that same result, it only equates to 3 grams per serving.
Even with the sugar content uber low in the green drink, my clients love the flavor differentiation of juicing and souping during the cleanse process. I have three certified organic varieties of soup filled with healthy detoxing ingredients: Carrot Ginger, Sweet Potato Curry and a Vegan Broth called No-Bone Broth.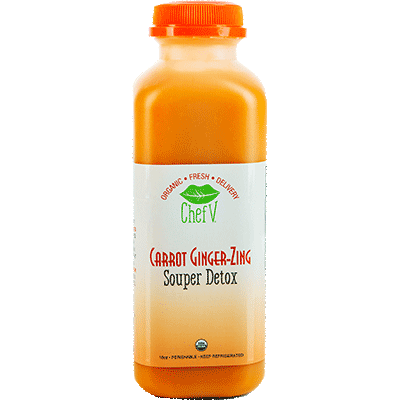 The Carrot Ginger soup helps you to feel fuller and more satisfied with ingredients like carrots, yams, onion, garlic, and ginger.
The Sweet Potato Curry packs a punch of flavor with the addition of leeks, ginger, onion, garlic, turmeric and curry spice.
My No-Bone Broth is made of high collagen vegetables like mushrooms, carrots, kale, onion, garlic and ginger to aid in healing your joints and boost collagen levels. Your body reaps may nutritional benefits fast, because you're able to digest quickly, similar to juice. For the busy mom, young professional or novice chef, adding "souping" to "juicing" is a more realistic cleansing plan to stick to.
You're going to see lines of full souping cleanses come out, just like the juicing cleanses did. While each body is different and taste preferences vary, person-to-person, mixing it up between juicing and souping is a safe and simple way to detox and ensure you don't get sick of one or the other.
In my certified Organic Cleanse, I offer you 4 green drinks per day, 2 vegan protein shakes, and a tasty soup at night. Mix and match which soups you prefer on your cleanse or go with a variety. We also have a new Brunch Cleanse that has everything you need for breakfast and lunch, including our new soup! Access to my E-book Making Cleansing Easier with the brunch cleanse for dinner inspirations.
For more on Chef V's 3-day, 5-day or 7-day cleanse, visit www.ChefV.com/cleanse
Or click for the Brunch Cleanse